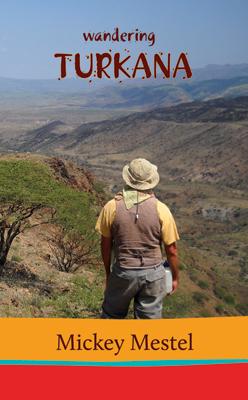 Mickey Mestel is a passionate storyteller who loves to tell about the odd, exotic experiences from his faraway travels.  In Wandering Turkana, he muses about everything from riding a bus in Africa to the natural ways of the nomadic Turkana.  His search for Spirit leads him to one of the harshest environments on our planet.  It is worth your time to take the journey with him.
—- Brian Williams 
Regional Director of Asia,  Wildlife Works Carbon
* * *
Way off the beaten track, this splendid book shows an Africa that is fast disappearing.  This journey of the mind, following in the steps of Mickey, a thoughtful, tough American, and Ismail, an African guide, with their donkey handlers, porters, and fellow travelers, is unlikely to age.  
—-- Andrew Fairfax 
Founder, Active Adventures, New Zealand
Wandering Turkana
ABOUT THIS BOOK
Few Westerners have seen the remote Suguta Valley in northern Kenya. Mickey Mestel has seen it no fewer than four times—on foot.  This distant, unforgiving land that's been called "the harshest terrain on the planet" has planted a permanent seed in this traveler's heart; and it is one that needs no water or sun.  Enduring extreme heat, cold, thirst and hunger, the danger of bandits and wild animals, and mind-bending cultural differences, Mickey has lived to tell of things the rest of us never knew we could dream about.  
Join Mickey on this extraordinary walking safari to the mythical Lake Turkana at the northern end of Suguta Valley and see Kenya like you never have before.