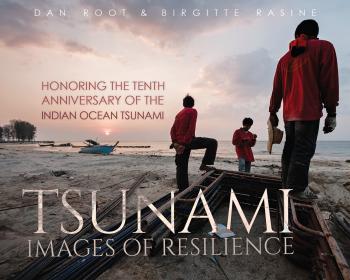 An impressive body of work, "Tsunami: Images of Resilience" is truly extraordinary and strongly recommended for community and academic library Contemporary Photography collections.
— The Midwest Book Review
The cover, the photographs, and the words come together in a deeply moving and artistically brilliant presentation of tragedy and resilience. The sensitivity with which the photographer and the author/producer capture life after the tsunami add to the power of this important work.
— Steve Kaffen, author
Today the long-awaited Tsunami book arrived, beautifully wrapped and cradled in recyclable packaging. I've been admiring it ever since. I love the cover artwork with its title letters washed over by debris.  I'm inspired by Dan's splashes of color on a canvas of bleak despair, the dazzling smiles, cascading drops of water, hands washing away pain and loss.  I'm honored to witness the evolution of [this journey]. I treasure the effort, the process, the painting of this picture of life.
— Ruth Varner, author
Esta espectacular! Las fotos y los textos son increíbles! Debes estar muy orgullosa de esta obra de arte que nos pone a pensar en la fuerza de la naturaleza y los ciclos de vida y muerte. Te felicito sinceramente y te auguro muchos éxitos! Es de verdad una joya!
—Juan Carlos Lenz
Tsunami: Images of Resilience
Available through the following channels:
ABOUT THIS BOOK
They say an image speaks a thousand words—these images speak millions.
The Indian Ocean tsunami of December 26, 2004, which devastated the shores of 11 countries and took the lives of over a quarter of a million people, burned through the world's consciousness for months afterwards. Just as the wave shattered everything in its path, so the stories of those who lived through it forever changed, torn apart and unraveled. The sea forced them not only to rebuild their lives, but to rewrite their stories.
So they did. They rebuilt and they rewrote.
This is the book that tells their stories, in more colors than words could ever paint.
A profoundly moving look into the unseen moments of survival, strength, and resilience among the survivors of the massive 2004 Indian Ocean tsunami, this collection of rare photojournalistic images stands as testament to the extraordinary human capacity to survive the most devastating of natural disasters.
Conceived by author and entrepreneur Birgitte Rasine and sponsored by international non profit ICLEI, the original "Tsunami: stories of resilience" documentary project has now turned into a gorgeous hardcover photography book of images.  Stories told in images, because no words in any language can fully express the power and drama of the hundreds of thousands of lives so profoundly changed by the very ocean that once gave us all life.
More information about:
The digital edition is now out on the 
Kindle
and
iPad
. If you'd like both the ePub and mobi files for your various eReaders, you can get those by purchasing the eBook
directly from the author
.