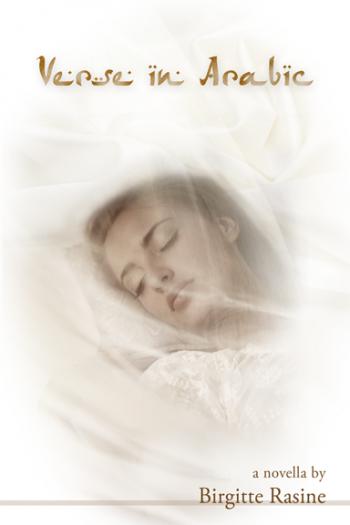 I don't like mysteries. I lose interest quickly and if I persevere to the end, I am almost always disappointed. Birgitte Rasine has taught me a lesson with her artfully and hypnotically composed Verse in Arabic. Based on a real life story that haunted her for decades, this is a book that defies many of the conventional "rules" of fiction writing.
Rasine is a master wordsmith, whose prose is graceful and poetic, yet efficient and, for that reason, effective. Every word counts, and you'll hang on every word as well.  I may have to rethink my aversion to mysteries—especially if they're written by Birgitte Rasine.
— Cynthia Dagnal-Myron
Author and award-winning former journalist for the Chicago Sun Times
* * *
[Verse in Arabic] is ... the kind of book that stays with you long after you've turned the last page.
— Bill Thompson
Radio journalist and host, The Bookcast
* * *
No ending will suffice for a mystery that will remain in the reader's mind as a companion long after the last page. The author wants you as an accomplice, and succeeds masterfully. Madrid, medicine, innocence and crime, tall verse written for your pleasure by this brilliant author.  Shokran!
— Isabel Campoy
Author and former Senior Editor at Houghton Mifflin Harcourt
 
* * *
Birgitte Rasine's mysterious Verse in Arabic pulled me in and held me from beginning to end. Beautifully written, this story continues to demonstrate that Rasine is an uncommonly gifted writer.  
— Don Thompson
Author, playwright, and film producer
* * *
Verse in Arabic is a captivating tale of murder, innocence, and intrigue.  It is set in Spain during a complex and turbulent period in that country's history. The writing is crisp and visual; the characters are compelling and developed caringly and with precision. The author's careful unraveling of information and details—a methodical crescendo, sentence by sentence, paragraph by paragraph—is masterful storytelling. Once you start reading, you will find it a challenge to put Verse in Arabic down.  
— Steve Kaffen
Author and member of The Explorers Club
Read more reviews here and here and on Amazon or on Goodreads!
Verse in Arabic
Available through the following channels:
ABOUT THIS BOOK
Can a patient's silence kill the doctor?
A respected physician in Cordoba, Spain, receives a mysterious phone call—a request to attend to the ailing daughter of a wealthy but secretive family in Madrid.  What seems to be a routine house call quickly turns into a disturbing labyrinth of intrigue and mystery, and a fight for the girl's life.  The outcome of that battle will impact the doctor—and the journalist interviewing him—in ways neither imagined.
Set against the unstable political climate of General Franco's Spain in the 1940's and based on a bizarre real-life incident that remains unsolved to this day, "Verse in Arabic" twists medical ethics and psychosocial tyranny into a cord that pulls at your heart from both ends.