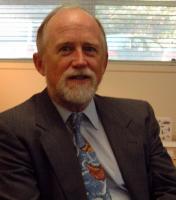 Array
Serving many years on the faculty of the Harvard School of Public Health, Dr. J. Larry Brown riveted national attention to the existence of hunger in America in the 1980s, when he led a team of prominent doctors on field investigations into twenty-five states.
The founding director of the Center on Hunger and Poverty, Dr. Brown also founded the Feinstein Famine Center and the Institute on Assets and Social Policy. Dr. Brown chaired the board of Oxfam America, and also chaired the medical task force of USA for Africa and Hands Across America. He is the author of numerous articles in both lay and scientific journals, such as Scientific American and Encyclopedia Britannica, and several books including Living Hungry in America, Hunger in America: The Growing Epidemic, and The Way We Go to School: The Exclusion of Children in Boston. 
He has appeared often on national television including CNN, Good Morning America, Today Show, and network news programs, and testifies frequently before Congress. A young Peace Corps Volunteer in rural India in the late 1960s, Brown later served under President Carter as assistant director of the Peace Corps. He recently served a stint as Country Director of the Peace Corps in Uganda, and now resides with his wife, Judi Garfinkel, in Oman, where they head programs for World Learning/SIT.