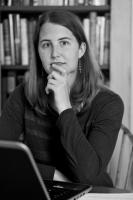 Array
Ariel S. Garfinkel's focus is international human rights law, including women's rights. She has worked in the education and non-profit sectors, and her experience includes teaching, writing and human rights advocacy.
Ariel currently serves as program manager at Chances for Children International, a non-profit that strengthens and expands grassroots organizations in developing countries that provide children in poverty with access to education.
Prior to CCI, Ariel worked with Girls Incorporated for several years, teaching women's history and rights, financial literacy, health and development. During her AmeriCorps service she helped to increase access to social services for new immigrant families and co-managed food justice initiatives.
Ariel holds an M.A. in Human Rights from Columbia University and a B.A. from Mount Holyoke College. A Massachusetts native, Garfinkel has lived and worked in Guatemala, Spain, Uganda, and Oman. She currently resides in New York City.