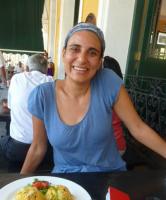 Array
Gözde Avci Is an independent development consultant working for international aid agencies. She has been implementing livelihood improvement and emergency intervention projects for the last eight years in the Middle East, Balkans, Central Asia, Caribbeans, Africa and South East Asia. 
Her love for Haiti developped in 2010 where she has managed an emergency (cash-for-work ) project, after the earthquake,  in the Artibonite Valley,  employing 7000 people.  Since then she has personally invested co-opening two non- profit schools for adult literacy in the same region in Haiti.
Ms. Avci has a Master's degree in Law from Paris V Malakoff University. She was the co- founder and director of Educaide for eight years, an international non-profit organization,  working in developing quality of education for children. She was chosen as the  US State Dept fellow in 2008. Ms. Avci speaks five languages. She has travelled and occasionally worked in more than fifty countries.