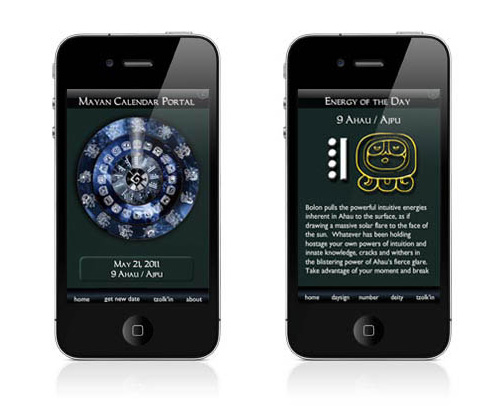 "MCP Mayan Tzolk'in" is the official mobile app of the Mayan Calendar Portal.  Meticulously researched, gorgeously designed, the MCP Mayan Tzolk'in presents the complete set of 260 daily energies of the Tzolk'in calendar, interpreted and compiled for the first time in the context of, and for the specific needs of, modern-day life.  No other Mayan Calendar app goes into this level of detail of the Tzolk'in's daily energies.
You can now take the Tzolkin with you wherever you go; no Internet connection is required. 
The app features full descriptions of the day signs, numbers, and deities, an explanation of the Tzolk'in calendar and how it works, a Gregorian–Mayan date calculator, and 260 individual Energies of the Day.
The "Energy of the Day" descriptions are poetic modern-day interpretations of the authentic practices of this sacred calendar that have been made available to us by the K'iche' Maya of the Guatemalan highlands. 
In December 2011, MCP Mayan Tzolk'in won a Silver Davey Award in Design from the International Academy of Visual Arts. 
Compatible with iPhone 5 and 6, iPad, and the Android platform.