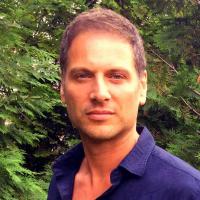 Array
Joseph Rain is a business owner who divides his time between London, Slovenia, and other parts of the world. He is working on an ambitious book that seeks to help us redefine and rediscover who we are through the lens of philosophy, science, and spirituality. Titled "The Unfinished Book of Who We Are," it is slated for publication in 2018.
Joseph tells us this about his life and what led him to write this book:
I was privileged to enjoy a wholesome and engaging childhood influenced by both a diverse cultural upbringing and numerous life-changing circumstances. My mother was born in Slovenia, a republic in the former Yugoslavia, to a simple Christian family. She struggled through poverty and illness, becoming a teacher of languages and then joining the Communist Party to stabilize her economic and professional future. After my younger brother's premature death, she lost her purpose in life for many years before finding it again in spiritual awakening and charity work. My father is of Persian descent, born into a middle-class Muslim family in India. As a teenager he moved to London. There he met my mother, became a successful salesman and, later, a restaurant owner.
I spent most of my childhood split between communist Yugoslavia and old, imperial England. In both places, I was tallest kid in my class. I was very stubborn and very independent, but never an aggressive child. I excelled at sports in both primary and secondary school, and learned to play a guitar at the age of 13. At 15 I was blighted by a severe case of eczema, and overnight my life came to an abrupt halt.
Years later I realized what a blessing it had been. My illness compelled me to meticulously examine every detail of who I was and brought about an insightful sense of self-awareness at this early stage of my life. The eczema had caused my skin to react with excruciating pain to just about any sensation, thought, word, or action. It forced me to deal in great detail with the very essence of who I was. Doctors told us that there was no cure, and that I should turn to the power of the mind for possible solutions. That was my hope, rooted in  endless books exploring the greatness of human wisdom. Tackling my condition head-on, I embarked on an amazing journey. I researched my deepest self, and the way we humans interact with our inner and outer worlds. I was in severe physical pain, with personal growth my only salvation. Thirteen years later, on July 2, 1995, a second disaster struck. My younger brother, then just 21, ended his life. He left a simple note, which read: "Be happy for me, I will suffer no more." Until that day, I had genuinely believed that the whole of humankind shared one common desire to live. He showed me I was wrong.
An outburst of endless monologues, mixed with guilt, anger, disappointment and confusion, followed my brother's death. There were too many emotions to bear. So I began putting thoughts to paper. Through writing I found a release. I had to let it all out, to discharge. I desperately needed to redefine my relationship with truth, with life, with who I was and with what gave my existence a purpose. After years of intense inner-examination driven by my illness, I had experienced a major breakdown of my values, and began to question everything. This brought about ever-deepening insights, with a clarity I had never before experienced.  In time, I realized I wasn't really talking to myself, but rather to some greater knowingness, which seemed to dwell at the root of all beingness,  and which held immense wisdom. It was impossible to define it, so I named it "The Absolute."
I was nobody special. Today, I am still nobody special. Not to you, not to others and not to most living beings with whom I share the beauty of this amazing planet. But to me, I am the Universe!